Lost & Stray Pigeons
Racing pigeons may become disorientated and as a result become lost. Often still flying long after they should have reached their lofts and safety. A lost, or stray, pigeon will be weak, dehydrated, tired and in need of food and water.
Should you successfully capture such a forlorn pigeon, please place it in a box to keep predators at bay. Please provide water, in a small but deep container and some wild bird seed, corn, rice or dried peas.
To contact the owner of the pigeon, who will arrange and pay for all costs involved in getting the pigeon from you … firstly, carefully check the long flight feathers, as they may be stamped with the owners' contact details. These details would allow you to make contact with the least effort. Secondly, check the leg ring for a number. For example, if we here at, The North of England Homing Union (NEHU) had issued the ring, the number would be of the form NEHU2008X1234. There are many ring issuing bodies and some are listed below, please make contact with the appropriate body directly. We thank you for caring.
North of England Homing Union (Ring Prefix -NEHU)

Secretary:
D. Power
58 Ennerdale Road
Walker-Dene
Newcastle Upon Tyne
NE6 4DG
Tel: - 0191 262 5440
Fax: - 0191 262 5388
Email: nehu@nehu.co.uk

---
Royal Pigeon Racing Association (Ring Prefix -GB)
Tel: 01452 713529
Fax: 01452 857119
Email: strays@rpra.org
Website: www.rpra.org
North West Homing Union (Ring Prefix - NWHU)
Tel: 01257 421271 (10am - 1pm)
terry.nwhu@talktalk.net
Website: www.nwhu.co.uk
Scottish Homing Union (Ring Prefix - SU)
Mrs. L. Brooks
Scottish Homing Union
386a Stewarton Street
Wishaw
Lanarkshire
ML2 8DU
Tel: 01698 768939
Website: www.shuonline.co.uk/strays/strays.htm
Welsh Homing Pigeon Union (Ring Prefix - WHU)
WHPU
Old Timothy's Yard
Llanfoist St,
Ton Pentre
Rhondda
CF41 7EE
Tel/Fax: 01443 441010
Email: gail@whpu.co.uk
IHU Serial letter 'N' rings report to:
Mr Jimmy Hughes,
44 Ashbourne Park,
Lambeg,
Lisburn.
Co. Antrim.
BT27 4NS.
Tel: 02892 583725
Email: jameshughes681@btinternet.com
IHU Serial letter 'S' rings report to:
Secretary Irish Homing Union Southern Region (Arthur Furlong)
(President Mr Pascal Mulcahy)
Arthur Furlong
Tel 00353858565581
Lines Open 10am to 2pm Monday to Thursday
e-mail irishhomingunion@hotmail.com
---
---
FCI Country Addresses/Telephone Nos
---
The Belgian Union the KBDB no longer receive stray reports via their HQ, it is contracted out to a third party company.
Belgium - KBDB, Gaasbeeksesteenweg 52-54, B1500 Halle.
Stray Belgian pigeons should be reported via
---
***LIST OF COURIERS***
---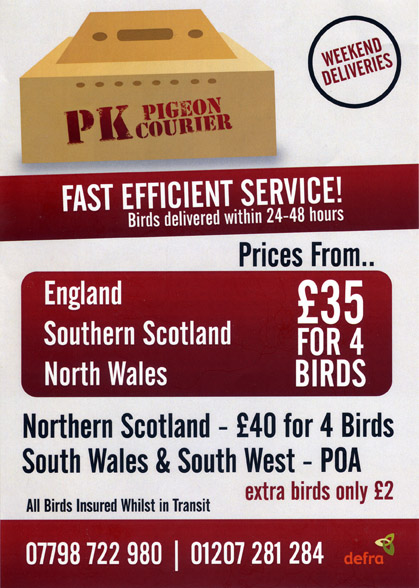 ---
CARRY-A-PIGEON
Steve Atkinson
Tel:- 07958215462
---
Pigeon Courier
Tel:- 01205 760696
Mob:- 07725314932
E-Mail:- info@pigeoncourier.co.uk
---
UK Pigeon Couriers

UK Pigeon Couriers - is a well known and very trusted pigeon courier service covering England, Scotland, Wales, Ireland and Europe by arrangement.
Tel: 0113 418 24 26
Email: Bookings.ukpc@outlook.com
Facebook: www.facebook.com/ukpigeoncouriers
Instagram: www.instagram.com/ukpigeoncouriers
---
PIGEON FORCE
Website:PIGEONFORCE
E-Mail:- info@pigeonforce.co.uk
Daryl Thornton
Tel no: 01132 195060
Mobile: 07547348333
Based in the Leeds area, covering most of England and Scotland. especially the north-east of England
---
Marcus Ream Transport
We are a West Yorkshire based Light Haulage / Courier company , Recently we have started offering a Pigeon collection / delivery service guaranteed to beat any genuine quote.
If we can be of assistance to any clubs / club members please dont hesitate to contact us .
Birds can be collected anywhere in the UK and can even be rested /fed up in the comfort of our own loft.
Marcus Ream Transport
07875493778
---
BOB LEE OF YORKSHIRE
COVERING THE NORTH EAST, NORTH WEST, NORTH WALES AND OTHER AREAS
FULLY INSURED AND DEFRA LICENSED
PIGEON COURIERS FOR OVER THREE YEARS
PRICES ARE FROM £35
Tele Nos 07825305389/ 01422886466
E-Mail:- rlee54@btinternet.com
---
G & R COURIERS
01773 820539
07725209762
G TOMLINSON
CHAPEL FARM
BLACKBROOK
DERBYSHIRE
DE56 2DD
---
G & S PIGEON SERVICES
HULL
Based in Hull East Yorks - Area covered Lincoln to Newcastle - £35 per bird
07833130385 OR 07708833099
EMail: SM.RH@Hotmail.co.uk
---
HIGHFLYERS UK COURIERS
All areas covered England Scotland and Wales
England Wales from £40
Scotland from £45
We have the contracts of most of the top breeders such as Louella, Ponderosa, Tumley lofts, etc
Call us 7 days a week. Orders in by Saturday noon for delivery next week
DAVE 07887781089 KEV 07763128410 JOHN 07929878545
Former drivers of UK Pigoen Couriers
Email:- highflyersukcouriers@hotmail.co.uk
---
WALKERS
---