Lost & Stray Pigeons
Racing pigeons may become disorientated and as a result become lost. Often still flying long after they should have reached their lofts and safety. A lost, or stray, pigeon will be weak, dehydrated, tired and in need of food and water.
Should you successfully capture such a forlorn pigeon, please place it in a box to keep predators at bay. Please provide water, in a small but deep container and some wild bird seed, corn, rice or dried peas.
To contact the owner of the pigeon, who will arrange and pay for all costs involved in getting the pigeon from you … firstly, carefully check the long flight feathers, as they may be stamped with the owners' contact details. These details would allow you to make contact with the least effort. Secondly, check the leg ring for a number. For example, if we here at, The North of England Homing Union (NEHU) had issued the ring, the number would be of the form NEHU2008X1234. There are many ring issuing bodies and some are listed below, please make contact with the appropriate body directly. We thank you for caring.
North of England Homing Union (Ring Prefix -NEHU)

Secretary:
K. D. Sample
58 Ennerdale Road
Walker-Dene
Newcastle Upon Tyne
NE6 4DG
Tel: - 0191 262 5440
Fax: - 0191 262 5388
Email: nehu@nehu.co.uk

---
RING PREFIX ORGANISATION & ADDRESS
AERC ALL ENGLAND ROLLER CLUB
Mr James Brunton
Tel: 01253 932849 or 07857 331940
Email: fionaandjames@hotmail.co.uk
AETU ALL ENGLAND TIPPLER UNION
Mr D. Warrener, 27 Sunnybrow, Silksworth, Sunderland, SR3 1DG
Tel: 0191 680 5126 Email: daveywarrener@aol.com
BRC BENTLEY ROLLER CLUB
Mr P Green, 85 Slater Street, Willenhall, Wolverhampton,
WV13 1HZ Tel: 01902 634695
BRITISH MUSEUM BRITISH TRUST FOR ORNITHOLOGY
Tel: 01842 750050 (Wild birds involved in trials)
BSRF/RSG BRITISH SHOW RACER FEDERATION
Mr Struan Ferguson, 119 Strathallen Drive, Kirkcaldy, Fife, KY2 5YP
Tel: 01592 200372 Email: struanferguson@blueyonder.co.uk
STAR & GARTER Mr Struan Ferguson – as above
EERC EAST OF ENGLAND ROLLER CLUB
AICF / NYC Mr J Mullan, The Legend, 41 Coopers Road, Martlesham Heath,
Suffolk IP5 3SJ Tel: 01473 624526 or 0771 3359386
Email: james@wishingwelldoves.co.uk or wishingwell.doves@tiscali.co.uk
EFTU ENGLISH FLYING TIPPLER UNION
Mr Dave Black Tel: 07977 368622
INFPA IRISH NATIONAL FANCY PIGEON ASSOCIATION
Mr J Fitzgerald, Mount Catherine, Clonlara, Co Clare, S. Ireland
Tel: 00353 61354013
IHU IRISH HOMING UNION
Mr B McLoughlin, 15 St Joseph's Bungalows, Newry, BT34 4PF Tel: 07912 261575 Email: brndnmclghln@aol.com – but PLEASE NOTE Serial letter 'N' rings to be reported to Mr Hughes, 44 Ashbourne
Park, Lambeg, Lisburn, BT27 4NS Tel: 02892 583725
Email: jameshughes681@btinternet.com
Serial letter 'S' rings Mr B McLoughlin as above or Email: irishhomingunion@hotmail.com
MDRC MIDDLESBOROUGH & DISTRICT ROLLER CLUB
Tel: 01642 862412 or 01642 870092
MRPC MIDLAND ROLLER PIGEON CLUB
Mr Steve Atkinson Tel: 07847 920224
NBRA NATIONAL BIRMINGHAM ROLLER ASSOCIATION
Mr J Hall Email: Johnjjjhal@aol.com
(For information on unrecognised prefixes only)
NEHU NORTH OF ENGLAND HOMING UNION
Mr D.G Power, 58 Ennerdale Rd, Walker Dene, Newcastle-on-Tyne
NE6 4DG Tel: 0191 2625440 Fax: 0191 262 5388
Email NEHU@nehu.co.uk
NPA NATIONAL PIGEON ASSOCIATION
Mr James Mullan, PO Box 1083, Ipswich, IP1 9DA
Tel: 07708 718252 Email: rings@nationalpigeonassociation.org
NPR NATIONAL PIGEON RINGS
625 Newbold Road, Chesterfield, Derbyshire, S41 8AA Tel: 01246 276264
Email: mick@nationalpigeonrings.co.uk Web: https://www.nationalpigeonrings.co.uk/
NRC NORTHERN ROLLER CLUB
Mr J Weir, 24 Lowry Villas, Whiteleas, South Shields, Tyne & Wear
NE34 8HZ Tel: 0191 426 1653
NTU NATIONAL TIPPLER UNION
Mr Paul Unsworth
Email: unsy10@yahoo.co.uk Web: http://ntu.tipplers.org.uk/
NTUW NATIONAL TIPPLER UNION OF WALES
Mr R Williams, 4 Clayton Street, Landore, Swansea SA1 2PW
Tel: 01792 424393
NWHU NORTH WEST HOMING UNION
T Dawber, 279 Mossy Lea Road, Wrightington, Wigan, WN6 9RN
Tel: 01257 421271 Email: terrydawber@pigeonman.17.plus.com
SRRC SOUTH RIDING ROLLER CLUB
Mr Jeb White Tel: 01226 700433
SU SCOTTISH HOMING UNION
Mrs L Brooks, 386a Stewarton Street, Wishaw, Lanarks ML2 8DU Tel: 01698 768939 Fax 01698 327469 enquiries@shuonline.co.uk
WEFT/BSW WEST OF ENGLAND FLYING TUMBLER SOC.
Mrs R Williams, 12 Clovelly Road, Bideford, Nth Devon, EX39 3BU
Tel: 01237 477096
WHFC WORCESTER HI-FLI CLUB
Mr J Smith 22 Albert Rd, Worcester, WR5 1EB Tel: 01905 355041
WHU WELSH HOMING UNION
Old Timothy's Yard, Llanfoist Street, Ton Pentre, Rhondda, CF41 7EE
Tel: 01443 441010 Email: gail@whpu.co.uk
WRPS WARLEY ROLLING PIGEON SOCIETY
Mr B. Davis Tel: 0121 557 9557 or 07980 896715
WRRC WEST RIDING ROLLER CLUB
Mr Steve Brearton Tel: 07989 919325 Email: stevebrearton@hotmail.com
WTC WOLVERHAMPTON TUMBLER CLUB
Mr Reynolds Tel: 01902 734104
YPRS YORKSHIRE PERFORMING ROLLER SOCIETY
Mr Steve Paling Tel: 07768 870746
OVERSEAS ORGANISATIONS
BELG/BE ROYALE FEDERATION COLOMBOPHILE BELGE
52-54 Gaasbeeksesteenweg 1500 Halle, Belgium
Tel: 0032 2537 6211 Fax: 0032 2538 5721
Email nationaal@kbdb.be Website: http://www.kbdb.be/
FR FEDERATION COLOMBOPHILE FRANCAISE
54 Boulevard Carnot, 59000 Lille, France
Tel: 0033 3200 68287 Fax: 0033 3201 50157
Email fcf@nordnet.fr Website: http://www.colombophiliefr.com
DV VERBAND DEUTSCHER BRIEFTAUBENZÜCHTER e.V.
Katernbergerstr. 115, 45327 Essen, Germany
Tel: 0049 2018 72240 Fax: 0049 2018 722467
Email: verband@brieftaubenverband.de
Website: http://www.brieftaube.de/web/
NL NEDERLANDSE POSTDUIVENHOUDERS ORGANISATIE
Postbus 908, 3900 AX Veenendaal, The Netherlands
Tel: 0031 3185 59700 Fax: 0031 3185 59701
Email : secretariaat@npoveenendaal.nl
Website: http://www.npoveenendaal.nl
PORT FEDERACAO PORTUGUESA DE COLOMBOFILIA
Apartado 39, 3001-968 Coimbra, Portugal
Tel: 00351 239 853 100 Fax: 00351 239 853 105
Email geral@fpcolumbofilia.pt Website: http://www.fpcolumbofilia.pt/
ESP REAL FEDERACION COLOMBOFILA ESPANOLA
Eloy Gonzalo 34, piso 7 Iz'da, 28010 Madrid, Spain
Tel: 0034 91 448 88 42 Fax 0034 91 448 72 04
Email: realfede@realfede.com Website: http://www.realfede.com/
ITA FEDERAZIONE COLOMBOFILA ITALIANA
Via Mazzacurati 30/4, 42122 Reggio Emilia, Italy
Tel: 0039 522 337725 Fax: 0039 522 396857
Email: segreteria@federcolomb.it or info@colomboviaggiatore.it
Web: http://www.colomboviaggiatore.it
MALTA FEDERATION OF PIGEON RACING CLUBS OF MALTA
Old Railyway Road, Hamrum, HMR08, Malta
Tel: 00356 2123 0111 Fax: 00356 2122 3466
Website: http://www.maltafederationofracingpigeons.com/
NOR NORGES BREVDUEFORBUND
Krokliveien 21, 0584 Oslo, Norway
Tel: 0047 958 79298
Email: lars@corneliussenpigeons.com Web: http://www.brevduesport.no
DAN DE DANSKE BREVDUEFORENINGERS
Lindegardsvej 27, 8981 Spentrup, Denmark
Tel: 0045 4828 4244 Fax: 0045 4828 4644
Email: ddb@brevduen.dk Web: http://ww.brevduen.dk
SWE SVENSKA BREVDUVESPORT
Email: Yvonne.staf@live.se Web: http://www.brevduvesport.net
FIN SUOMEN VIESTIKYUHKY-YHDISTYKSEN
Tel: 00358 044 989 3343
Email: Kaya.2005@hotmail.com Web: http://www.viestikyyhky.fi
LUX FEDERATION COLOMBOPHILE LUXEMBOURGEOUISE L-7462 Moesdorf, 11 Rue du Knapp, Luxembourg
Tel: 00352 621 195994 Web: http://fed-col-lux.net
CZ CESKOMORAVSKY SVAZ CHOVATELU POSTOVNICH HOLOBU Ing. Jaroslav Novotny, El. Krasnohorske 39, 61800 Brno
Tel: 00420 737 267 205 Fax: 00420 543 212 440
Email: jaroslav.novotny@ukzuz,cz Web: http://www.postovniholub.cz
PL POLSKI ZWIAZEK HODOWCOW GOLEBI POCZTOWYCH
ul. Dworcowa 5, 43-180 Orzesze, Poland
Tel/Fax: 0048 327 231290 Email: zg@pzhgp.pl
Web: http://www.pzhgp.pl
SK SLOVENSKY ZVAZ CHOVATELOV POSOVYCH HOLUBOV
Akademicka 4, 949 01 Nitra, Slovakia
Tel: 0042 137 653 7503
Email: szchph@agroinstitut.sk Web: http://www.postoveholuby.sk
LT LITHUANIAN RACING PIGEON ASSOCIATION
Vytauto g. 130, Garliava Kauno raj. 53236, Lithuania
Tel: 00370 625 29829
Email: Goncas001@yahoo.com Web: http://www.pigeons.lt
HUNG MAYGAR POSTAGALAMBSPORT SZOVETSEG
Verseny Utca 14, 1076 Budapest, Hungary
Tel: 0036 134 24522
Email: info@postaglamb.hu Web: http://www.postagalamb.hu
IF INT. FEDERATION OF AMERICAN HOMING PIGEON
FANCIERS
Sal Lama, 17820 Monteverde Drive, Spring Hill, FL, 34610, U.S.A.
Tel: 001 727 364 7554 Email: SLama@tampabay.rr.com
Web: http://www.ifpigeon.com
AU AMERICAN RACING PIGEON UNION
R. Phalen, PO Box 18465, Oklahoma City, OK73154-0465, U.S.A.
Tel: 001 405 848 5801 Fax: 001 405 848 5888
Web: http://www.pigeon.org
CU/CRPU CANADIAN RACING PIGEON UNION
261 Tillson Avenue, Tillsonburg, ON N4G 5X2, Canada
Tel: 001 866 652 5704 Email: secretary@crpu.ca
Web: http://www.crpu.ca
---
***LIST OF COURIERS***
---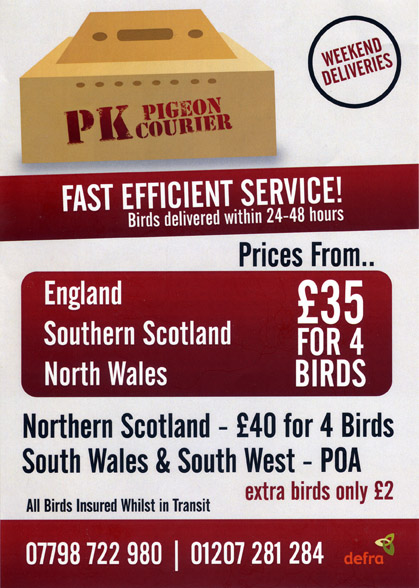 ---
CARRY-A-PIGEON
Steve Atkinson
Tel:- 07958215462
---
Pigeon Courier
Tel:- 01205 760696
Mob:- 07725314932
E-Mail:- info@pigeoncourier.co.uk
---
UK Pigeon Couriers

UK Pigeon Couriers - is a well known and very trusted pigeon courier service covering England, Scotland, Wales, Ireland and Europe by arrangement.
Tel: 0113 418 24 26
Email: Bookings.ukpc@outlook.com
Facebook: www.facebook.com/ukpigeoncouriers
Instagram: www.instagram.com/ukpigeoncouriers
---
PIGEON FORCE
Website:PIGEONFORCE
E-Mail:- info@pigeonforce.co.uk
Daryl Thornton
Tel no: 01132 195060
Mobile: 07547348333
Based in the Leeds area, covering most of England and Scotland. especially the north-east of England
---
Marcus Ream Transport
We are a West Yorkshire based Light Haulage / Courier company , Recently we have started offering a Pigeon collection / delivery service guaranteed to beat any genuine quote.
If we can be of assistance to any clubs / club members please dont hesitate to contact us .
Birds can be collected anywhere in the UK and can even be rested /fed up in the comfort of our own loft.
Marcus Ream Transport
07875493778
---
BOB LEE OF YORKSHIRE
COVERING THE NORTH EAST, NORTH WEST, NORTH WALES AND OTHER AREAS
FULLY INSURED AND DEFRA LICENSED
PIGEON COURIERS FOR OVER THREE YEARS
PRICES ARE FROM £35
Tele Nos 07825305389/ 01422886466
E-Mail:- rlee54@btinternet.com
---
G & R COURIERS
01773 820539
07725209762
G TOMLINSON
CHAPEL FARM
BLACKBROOK
DERBYSHIRE
DE56 2DD
---
G & S PIGEON SERVICES
HULL
Based in Hull East Yorks - Area covered Lincoln to Newcastle - £35 per bird
07833130385 OR 07708833099
EMail: SM.RH@Hotmail.co.uk
---
HIGHFLYERS UK COURIERS
All areas covered England Scotland and Wales
England Wales from £40
Scotland from £45
We have the contracts of most of the top breeders such as Louella, Ponderosa, Tumley lofts, etc
Call us 7 days a week. Orders in by Saturday noon for delivery next week
DAVE 07887781089 KEV 07763128410 JOHN 07929878545
Former drivers of UK Pigoen Couriers
Email:- highflyersukcouriers@hotmail.co.uk
---
WALKERS
---